ICEX-Invest in Spain supports the 8th Spain Investors Day forum
09 January 2018
The event took place on January 9 and 10 in Madrid with the presence of major listed Spanish companies and over 170 international investors
This Tuesday saw the launch in the Ritz Hotel in Madrid of the 8th Spain Investors Day (SID), which was opened by Mariano Rajoy, the Spanish Prime Minister.
For two days in Madrid, this international economic forum brings together the heads of 39 major Spanish listed companies and over 170 investors from Europe (Germany, Belgium, Spain, France, Ireland, United Kingdom and Switzerland), USA, Canada and Malaysia.
ICEX-Invest in Spain has been collaborating as a sponsor in this professional forum since its first edition. It is an excellent opportunity for companies to showcase their offering to the markets, stimulate foreign investment and in short, to boost their economic activity.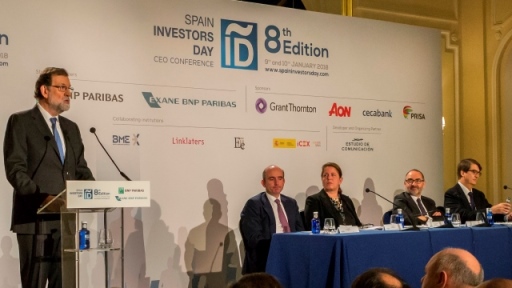 The Prime Minister highlighted Spain's soundness as an investment destination and underlined the key role of the foreign sector in the economy as a guarantee of recovery. He pointed out that the country is the "16th exporter of goods in the world and the 11th in services" and that Spain "exports a third of our GDP".
The economic forum continued at midday with a lunch presided by Luis de Guindos, Minister of Economy, Competitiveness and Industry, followed by a dinner at the Palacio de la Bolsa in Madrid hosted by Sebastián Albella, Chairman of the National Stock Market Commission.
During the two days, the SID will host hundreds of one-on-one meetings between companies, and a variety of seminars featuring talks by Spanish executives and government representatives. The closing ceremony on Wednesday will be presided by Álvaro Nadal, Minister for Energy, Tourism and the Digital Agenda.