Michelin chosen as one of Spain's Top Employers in 2018
14 February 2018
According to the Top Employers Institute, the Spanish subsidiary offers its employees excellent working conditions
Michelin Spain has joined the Spain Top Employers list for 2018 as one of the companies offering the best working conditions according to the Top Employers Institute, which each year analyzes the value proposal and the working conditions in leading companies around the world.
This recognition certifies that Michelin Spain offers excellent conditions for its employees, nurtures and develops talent at all levels of the company and continually strives to optimize its employment policies and working practices.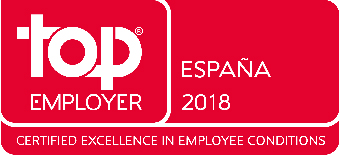 Since its foundation in 1991, each year the Top Employers Institute recognizes the companies that offer the best working conditions for their employees. The analysis is audited by an independent organization to reinforce its validity.
Participating companies undergo a rigorous analysis focused on areas such as talent strategy, staff planning and onboarding processes for new recruits. Other areas studied include their actions in learning and development, performance management, leadership development, career and succession management, remuneration and benefits, and company culture and values.
According to Salvador Ibáñez, country manager at the Top Employers Institute in Spain: "Optimum conditions for employees ensure that they can develop both personally and professionally. Our exhaustive analysis concludes that Michelin Spain offers a wide variety of creative initiatives, ranging from benefits and working conditions through to well-established performance management programs that are perfectly aligned with the company's culture".
José Manuel Fernández, Human Resources manager at Michelin Spain, says: "It is a source of pride and satisfaction to receive this certification which recognizes our company's good practices and policies in people management and development, and which also helps us in the search for possible ways to continue on our path to excellence in this area".