The volume of international funds invested in Spanish companies reached an all-time high in 2017
29 May 2018
The figure was 4.96 billion euros in 715 investments, exceeding all previous records
The annual conference of the Spanish Association for Capital, Growth and Investment (ASCRI) was inaugurated last Tuesday by Irene Garrido, secretary of state for the Economy and Corporate Support, and attended by Francisco Javier Garzón, CEO of ICEX-Invest in Spain, second from left in the photo.
The event featured the announcement of the results for private capital activities (venture capital and private equity) for 2017 and the first quarter of 2018, and analyzed the trends in the sector in Spain.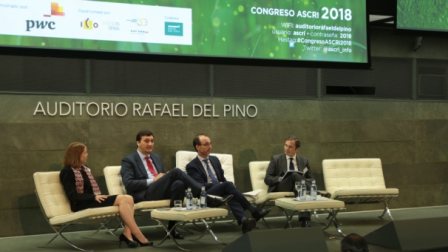 Private capital investment in Spain in 2017 was at an all-time high: 4.96 billion euros in 715 investments. Investment last year as a percentage of Spanish GDP was up nine basic points compared to 2016, with a figure of 0.43%, a record high which for the first time is on a par with the European average.
Investment by international funds in Spanish companies was the highest ever, with 3.6 billion euros (72% of the total investment volume), with the closing of 13 megadeals (transactions of over 100 million). National private funds dedicated 1.27 billion euros to 452 investments, while for national public funds the figure was 100.8 million for 169 investments.
The recovery of the middle market was consolidated (investments between 10 and 100 million), representing 28% of the total volume invested, with 13 investments made in 2017.
Divestment in 2017 (at cost price) was 3.48 billion euros in 243 divestments, led by international funds (2.65 billion).
Funds of funds were top of the total new resources captured. For the third consecutive year, funds of funds, including particularly the European Investment Fund (EIF), were the main contributors (24.8%) of the total resources captured by the private national entities, with 1.87 billion euros.
The sectors concentrating the highest volume of investment in 2017 were consumer products (14.5%), other services (16%), transport/logistics (13.7 %) and financial services (13.2%).
In 2017, 560 venture capital investments were closed in 449 startups (an all-time high), of which 300 received funding for the first time, the second highest record in investment volume (537 million euros).
Data for the first quarter of 2018
In the first quarter of 2018 the private capital sector dedicated a volume of 918.2 million euros (9.7% more than in the same period of 2017) to 167 investments, of which 132 were venture capital and 35 private equity investments.
In the middle market segment (transactions between 10 and 100 million) 15 investments were closed, with two transactions exceeding an investment of 100 million euros (Cinven in Planasa and Ardian in Monbake).