Covestro to build an innovative plant in Tarragona
09 July 2018
It will invest 200 million euros to produce chlorine with a 25% savings in energy consumption
Covestro has chosen Tarragona to build the first large chlorine production plant with oxygen-depolarized cathode technology. According to the announcement on Twitter: "We are planning to build our urban chlorine production plant in Tarragona, using a sustainable process to reduce energy consumption by 25%". Building will start in the first half of 2019, and the project will represent an investment of around 200 million euros.
The materials manufacturer, one of the largest polymer companies in the world, has spent more than two decades developing this highly efficient chlorine production technology. The new system uses an oxygen depolarised cathode developed jointly by Covestro and Thyssenkrupp Uhde Chlorine Engineers.
Hanno Brümmer, head of production at the polyurethanes segment, describes the inception of the new system: "The change in this process sounds simple, but was a ground-breaking development for chlorine manufacturing. Initial invention and development work began in our lab back in 1992. We then developed it further together with Thyssenkrupp and were able to start up the first demonstration plant on an industrial scale in Krefeld-Uerdingen in 2011".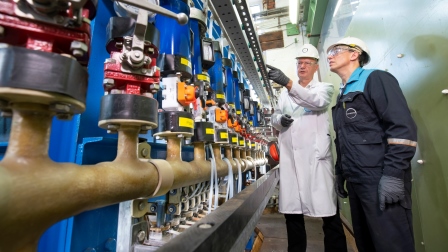 Energy savings
Chlorine is used to produce over 60% of polymers. As it is not found in its pure state, it must be obtained through various processes from chemical compounds such as rock salt, from which it is habitually extracted by means of electrolysis. The new process consumes around 25% less energy than the conventional method and will improve the plant's competitiveness, in view of the fact that energy accounts for one third of the cost of chlorine production.
According to Klaus Schäfer, Covestro's chief technology officer: "Sustainability and energy efficiency played a vital role in choosing the process. This is a special success story for us since the development of this technology began at our company over two decades ago".
The chlorine produced in Tarragona will be used to manufacture MDI, a precursor of the rigid foam used as an insulating material in buildings, and to reduce energy consumption in refrigerators. Its production using the new system will reduce carbon dioxide emissions by some 22,000 tons a year, equivalent to the amount produced by 15,000 cars.