Elis opens its biggest industrial laundry in Spain in Barcelona
17 July 2018
It has cost 22 million euros and will be the group's most advanced in the world, with 200 employees
The French multinational Elis has opened an industrial laundry in the Free Zone of Barcelona that can wash up to 500 tons of clothes per week. It is in fact the group's biggest in Spain and the most technologically advanced of all those it has in the 28 countries where it operates, in Europe and Latin America.
The group specializes in the rental and maintenance of textiles, work clothes and hygiene and wellness consumables. With this opening, amounting to an investment of 22 million euros and which will give jobs to 200 people, the group has demonstrated its commitment to the growth of the tourist sector, as the bulk of its business in Barcelona will consist of establishments in the hotel and catering sector.
Elis has been in the Spanish market for 45 years, where it operates 33 industrial laundries. The new opening forms part of its expansion process in our country, where it invested 131.7 million euros in 2017.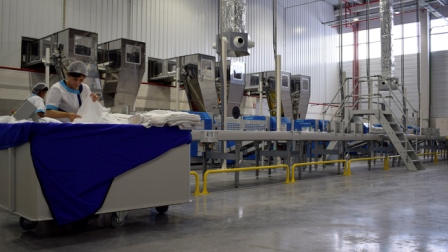 Technological innovation and energy saving
The Barcelona plant notable for being the first that Elis has constructed from scratch outside France. Its facilities include technological innovations designed to save on energy consumption and protect the environment. Solar energy provides 20% of its water heating needs, thus avoiding the emission of 80 tons of carbon dioxide per year. In addition, it has an internal water recycling system to avoid waste. In this way, consumption will be reduced by up to 30%.
With respect to environmental protection, the facilities, which occupy a total of 13,000 square meters on a plot of 26,170 square meters in the Free Zone, are equipped with a twin security system, triggered swiftly in case of any spillage to avoid damage.
The plant also reduces consumption of chemical products by up to 20%, gas consumption by up to 30% and energy consumption by 40%, including the air conditioning system.