Saudi Arabia agrees the purchase of five corvettes from Navantia
24 July 2018
The Saudi government will pay €1.8 billion for the construction of five corvettes
The state-owned company Navantia has concluded with Saudi Arabia what is so far the biggest contract in the history of the Spanish state-owned shipyards with a foreign client. Specifically, the Saudi government will pay €1.8 billion for the construction of five corvettes.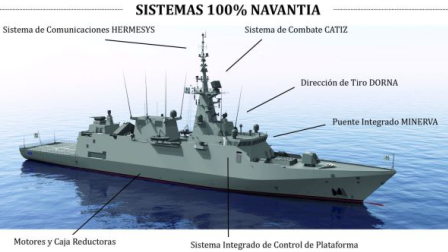 The construction of the new ships will last five years, with a workload of around seven million hours. It will give work to all the Navantia shipyards, particularly those in the Bay of Cadiz, but also Ría de Ferrol and Cartagena. The company estimates that some 6,000 jobs will be created, of which 1,100 will be direct and over 3,000 indirect, as well as a further 1,800 in ancillary industries.
The agreement has been under negotiation since 2015. Now work on the construction of the first corvette will start at the end of this year, and the fifth will be delivered in 2022. After that date, Navantia will continue to provide maintenance services for five more years, which may be extended for an additional five.
An international showcase
Navantia is aware of how this contract will benefit its workforce and its own international image. The state-owned company's capacities, facilities and areas of knowledge give it a strategic importance for defense and national security. The contract may serve as a showcase for demonstrating its own combat system to other foreign clients.
During the construction, Navantia will provide Saudi Arabia with other services, such as operational training and maintenance and integrated logistics support. The company has also created a strategic association with the Saudi Arabian Military Industries (SAMI) company.
This is a joint venture whose aim is to develop and maintain systems designed to achieve the Saudi Kingdom's 2030 Vision. This partnership is expected to generate income of eight million dollars, and will employ around a thousand Saudis, who will be trained in the skills needed in this sector.