Netflix Europe sets up in La Ciudad de la Tele with the support of ICEX-Invest in Spain
24 July 2018
Netflix, the world's leading internet entertainment service, announced today the establishment of its first European production hub in Madrid
The production hub will be located at Ciudad de la Tele, a new 22,000 square meter campus in Tres Cantos, Madrid, being developed and managed by Grupo Secuoya, a leader in audiovisual production services. Ciudad de la Tele will be the central facility for Spanish-language original content over the coming years, including new and existing titles produced by Netflix, as well as series and films made by production partners.
As part of this multi-year partnership, Grupo Secuoya will provide facility management and other services, including being the exclusive production services partner for projects based at the Ciudad de la Tele campus. Netflix will take occupancy of three sound stages of 1,200 square meters from September, with the option to occupy additional space as construction completes.
The creation of this production hub reflects Netflix's deepening investment in Spain, with over 13,000 cast, crew and extras working on 20 Netflix original productions across the country this year. Among the titles coming soon to Netflix are season 3 of "Las chicas del cable" on September 7 and "Élite", a young adult drama; with titles currently in production including Isabel Coixet's new original film "Elisa & Marcela" and "The Alcásser Murders", a new original documentary series. Netflix recently announced an overall deal with Álex Pina, the creator of the worldwide phenomenon "La casa de papel" (Money Heist), the most watched non-English language show on Netflix. Netflix is also investing significantly in licensed and co-produced titles created by Spanish producers and broadcasters. This includes a recent agreement for first-option access to drama series from Atresmedia, with "Fariña" and "La Catedral del Mar" among the upcoming titles launching on Netflix globally.
In the words of María Peña, CEO of ICEX: "We very much welcome Netflix's decision to establish its first European production hub in our country. We are sure this project will contribute strongly to positioning Spain as a competitive location for the global entertainment industry. In that respect, it will have our full support."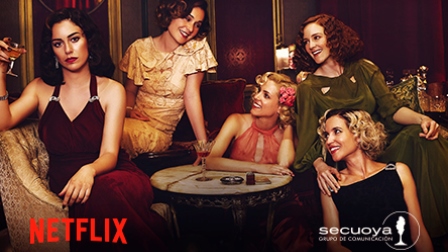 Erik Barmack, Vice President of International Originals at Netflix, said: "Spain has a rich heritage of innovative, immersive content creation and we are excited to strengthen our investment in the cultural heartland of Madrid. From San Sebastian to Santiago de Chile and Toronto to Tokyo, Spanish-language content is savored by Netflix members across the world. The establishment of our first European production hub will create new opportunities for Spain's incredible creative talent, as well as demonstrating our commitment to the production of original content throughout Europe."
Raúl Berdonés, Chairman of Grupo Secuoya, said: "We are delighted that Netflix has chosen Ciudad de la Tele as the location of its first European production hub. Netflix sets a world-class standard in its production process and the decision to create a production hub in Madrid is proof of Spain's leadership in the audiovisual industry, as well as the depth of its talent pool. Grupo Secuoya is delighted to partner with Netflix to support the production of Spanish-language series for the world."