Spain ranks eighth among investment recipient countries
13 November 2018
In the previous year it was in 30th place
The Global Investment Trends Monitor published by the United Nations Conference on Trade and Development (UNCTAD) analyzes foreign direct investment around the world in the first half of 2018. UNCTAD places Spain in eighth place in the table for this period. It is not only an excellent position, but marks an extraordinary rise from 30th place the previous year.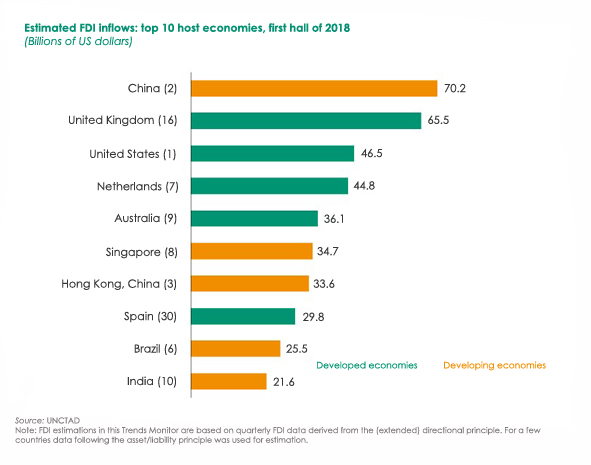 The United States has lost its first place in the global ranking, now occupied by China. The United Kingdom, in second place, has gained in similar fashion to Spain and leapfrogged ahead of the United States, which has slipped to third.
In fourth place is the Netherlands, which has risen from seventh; next comes Australia (up from ninth), Singapore (up from eighth) and Hong Kong (down from third place). Behind Spain in the top ten are Brazil (down from sixth) and India (the only country to retain its position).
According to the Ministry, foreign investment has grown by 21%
At the same time (but with a different methodology), the Investment Record of the Ministry of Industry, Trade and Tourism also highlights the foreign direct investment received by Spain in the first half of 2018. It indicates growth of 21% on the same period the previous year to 18,052 million euros, the highest figure for Spain in a first half of the year in the last decade.