Spain climbs to 18th place in the ranking of best countries for doing business, according to Forbes
29 March 2019
The United Kingdom topped the list of 161 nations in the report, which rates Spain as among the freest in the world

In its annual publication entitled "Best Countries for Business 2019", the American magazine Forbes features Spain at number 18 in the best countries for doing business, behind the United States and ahead of Japan.
Since the last edition – in 2018, when it included 153 countries – of this analysis of how easy it is to do business in each one, Spain has climbed two positions in this year's list, out of a total of 161 countries. The United Kingdom, Sweden and Hong Kong – in that order – are in the first three places, followed by countries like the Netherlands, New Zealand and Canada.
The report, which measures ten variables including levels of freedom, tax pressures, corruption, innovation, technology and investor protection, rates Spain as one of the countries with the highest degree of personal freedom in harmony with neighboring countries such as Germany, United Kingdom, Ireland, Portugal and Italy.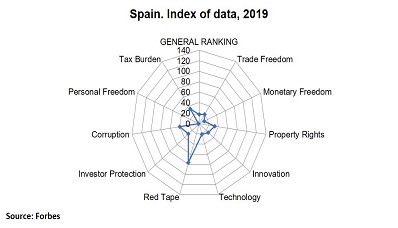 Spain is highlighted for having made significant improvements in the innovation category, as it has climbed to number 25, up 17 places since the last edition in 2018. It has also advanced in the categories of technology, monetary freedom and property rights.