Spain advances in its use of the digital economy
11 June 2019
According to the DESI report by the EU, it is up four places since 2017 and is now number ten in the ranking of member states
The EU has published its Digital Economy and Society Index (DESI) 2018 report, which measures the advances in the use of the digital economy among its members and considers five main areas and 33 subindicators.

According to this study, Spain has climbed four places since 2017 and now stands at number ten in the ranking of the 28 EU member states.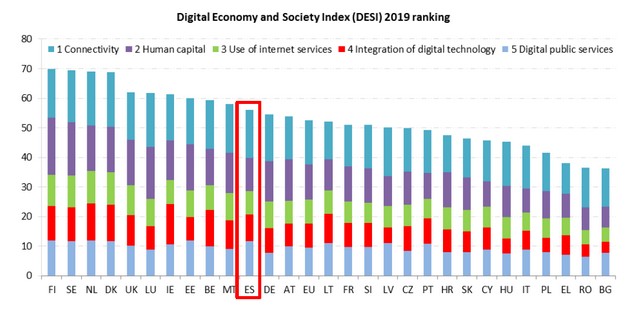 This rise is due to an improvement in most of the dimensions measured by DESI, but particularly two: connectivity – thanks to the widespread availability of fixed fast and ultrafast broadband networks and the increase in their implementation –, and advances in companies' use of digital technologies.

Specifically, Spain is now number seven in terms of companies' integration of digital technology, significantly above the EU average, after improving and climbing three places since last year.

Spanish companies are increasingly leveraging the possibilities offered by eCommerce: 20% of SMEs sell online (above the 17% EU average), 7% of all SMEs make cross-border sales and an average of 10% of their business volume comes from the online segment. Additionally, almost a third of SMEs use electronic invoicing, 28% of companies use social networks and 18% use cloud services.

Spain appears in the highest positions in the dimensions of electronic administration.

It has also improved in regard to human capital, although it is still slightly below the average.