Data4 arrives in Spain with the creation of a data center in Madrid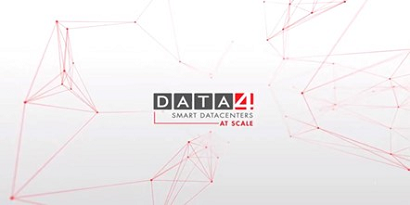 15 July 2019
It will invest 100 million euros in its start-up and create 25 direct and 25 indirect jobs
The French operator of data processing centers Data4 has chosen Alcobendas, in Madrid, to build what will be its first facility in Spain. This marks the expansion of its operations – after Paris, Milan and Luxembourg – to Southern Europe, an area with the fastest growth in Internet traffic, and where the company seeks to become a market leader. Its overall aim is even more ambitious, as the company plans to open a connection from Madrid toward Latin America and West Africa.
The arrival of Data4 in Madrid is part of its European expansion plan to meet "the growing demand for cloud services, the constant appearance of new technologies, and the current trend among Spanish companies for outsourcing their IT departments", it says in a press release.
State-of-the-art technology
Data4 has acquired a building with an area of 19,000 m² on a two-hectare site for the installation of its new data-processing center. It will invest 100 million euros in the next five years to equip it with the most advanced technology and with electrical power of 20 megawatts, 100% from renewable energy sources, and guaranteed thanks to an agreement with Iberdrola. Its launch will also represent the creation of 25 direct and 25 indirect jobs in the coming months.
Madrid was chosen because it is "a city that is constantly changing", and which, according to the company, is considered a very important market for data centers worldwide. It also points out that it is the leading city in Spain in terms of investment, with large-scale manufacturing companies and a powerful financial center, in addition to being the site of the central government, and – very importantly for Data4 – having an emerging community of startups.
Forty million euros in the first phase
Within the Madrid region, the company picked Alcobendas because it is the second city in Spain behind the capital in terms of investment. Another factor is that the new data center will be located near an important Internet node and near the head offices of numerous companies who could be potential customers when the first phase is underway in early 2020, with a budget of 40 million euros.
Juan Vaamonde, country manager of Data4 in Spain, explains: "Madrid is one of the most important emerging markets today in this new area of adopting cloud technology, because it is one of the largest countries in Southern Europe in terms of population and business volume".
For Olivier Micheli, the group's CEO, what is important "is not only expanding towards Southern Europe, but providing better global connectivity, particularly toward Latin America. In fact, with the new underwater cables between North and South America and Spain already in operation, Data4's position as the primary link with the Latin American market is assured".
Created in 2006, the company houses servers in conditions of maximum security, with an electrical power that responds to the needs of its customers and high connectivity.