ICEX-Invest in Spain and China EV100 sign a protocol to incentivize the collaboration to develop electric cars
03 June 2019
This agreement establishes a basis for cooperation for the promotion of reciprocal trade and investment in the electric car sector
ICEX-Invest in Spain and China EV100 have signed in Shanghai a General Action Protocol for the electric vehicle sector. Within the framework of the 1st China-Spain Forum on Electric Vehicles, María Peña, CEO of ICEX, and Zhang Yongwei, general secretary of EV100, signed this agreement in order to establish a stable framework of collaboration between both institutions. The signature took place on the occasion of a trip to China by Reyes Maroto, the Minister for Industry, Commerce and Tourism, to learn more about the development of electric vehicles and the opportunities it offers for the Spanish automotive industry.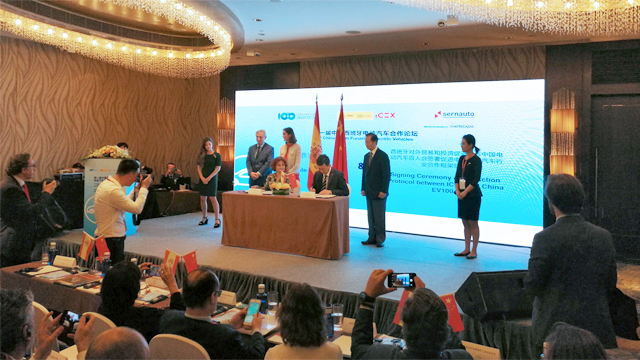 This protocol aims to develop some basic lines of cooperation to incentivize trade and investments in the automotive industry between both countries in the electric vehicle sector, and to promote the cooperation and business partnerships between Chinese and Spanish companies for the development of electric cars.
China EV100 was founded in 2014, and is a non-profit organization and think-tank focused on promoting and developing electric vehicles in China. The association serves as a platform for convergence and innovative collaboration between different fields of research and communication. It currently has 174 national members and 32 international members. The organization has four pillars: a development center, an innovation center, a research center and an internationalization center.
The 1st China-Spain Forum on Electric Vehicles, which was attended by 17 Spanish and 20 Chinese companies, explored the situation of the automotive industry and the electric vehicle sector in China and the automotive parts sector in Spain.
The event also featured an analysis of successful cases of collaboration between Chinese and Spanish companies in the parts and automotive sector, with a special focus on electric vehicles, and looked at future trends in the electric vehicle sector in Spain, Europe and China, with a review of the situation of the electric battery industry in Spain and China. It also considered the latest technologies for lightweighting and materials applied to electric vehicles, connected vehicles and self-driving vehicles, the latest technologies for testing and safety in the electric vehicle sector, and the development of testing zones for smart vehicles and autonomous driving.
China is the world leader in this emerging segment worldwide: the electric vehicle.