Gazeley builds two new warehouses in Tarragona and Toledo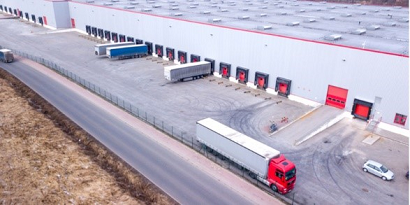 18 September 2019
These are its third and fourth warehouses since it reopened its Spanish office in 2018, and together total over 65,000 m²
Gazeley, the investment and developer of logistical warehouses and distribution centers, in recent months has begun the construction of two new warehouses, one in Illescas (Toledo) and another in Tarragona. When they come into operation in early 2020, the new facilities will join the other two that the British company began building in 2018 when it reopened its office in Spain.
Gazeley's warehouses provide service for logistical, distribution and eCommerce companies. In line with its sustainability policy, they are designed to obtain the "Breeam very good" certification, which recognizes sustainable building projects.
Third logistical ring in Barcelona
At the end of May Gazeley announced the construction of a warehouse with an area of 28,500 m² in Valls (Tarragona), the first it will launch in Catalonia. Called G-Park Valls, it will start providing service in February 2020. Valls was chosen because of its location in what is known as Barcelona's third logistical ring, which has excellent transport connections as it is located 90 km from the El Prat airport and 25 km from the port of Tarragona. It is also a key logistical area in Catalonia and the site of the Spanish headquarters of several leading European companies such as Ikea and Frigicoll.
Óscar Heras, director of Gazeley in Spain, explains: "There is an increasing demand for logistical space in this area due to its exceptional transport links and its proximity to key markets, so we're confident this warehouse will attract high demand during its construction process".
The warehouse in Valls has been designed with the aim of maximizing storage space. It will have headroom of 11.7 m, 28 loading bays and a separate access for vehicles and pedestrians.
Illescas, 38 kilometres from the center of Madrid
Scarcely two months after that announcement, Gazeley revealed it was starting work on another warehouse, the G-Park Illescas, which will also be located in a key zone in terms of logistics, in this case in Illescas (Toledo), near Madrid. This warehouse will have an area of 37,100 m² and its inauguration is scheduled for January.
With the same headroom as the Valls warehouse, the structure in Illescas will be equipped with movement detection systems and state-of-the-art LED lighting to allow the remote monitoring and control of the building. It will also have photovoltaic solar panels to reduce its operating costs, and promote the use of sustainable transport modes by including electrical charging points for vehicles, bike parking and safe access for pedestrians.
Óscar Heras says when describing the warehouse: "We are delighted to develop a warehouse in this area with such good transport links, only 38 km from the center of Madrid. The construction will have all Gazeley's hallmarks; industry-leading performance, top-quality materials and absolute respect for the environment and the area where it is located".