Yaskawa extends its commercial network in Spain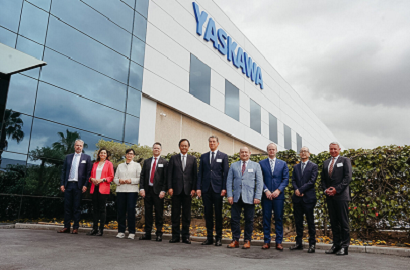 30 October 2019
It opens branches in Madrid, the Basque Country and Valencia to consolidate and expand its business
Yaskawa Ibérica, the Spanish subsidiary of the Japanese advanced technology manufacturer Yaskawa, has decided to expand commercially with the opening of new offices in Madrid, the Basque Country and Valencia, key points within its activity. This step comes in response to its current growth in the robotics sector, in which the Japanese company is a leader worldwide.
At the same time, it is also part of the Spanish subsidiary's expansion plan in order to respond more efficiently to the needs of the market and its customers. According to Laurent Bodin, managing director of Yaskawa Ibérica: "Our aim is to consolidate and expand our business, increasing our market share while at the same time ensuring the complete satisfaction of all our customers".
Synergies between its divisions
Yaskawa Ibérica operates in two divisions: robotics, where it is one of the largest manufacturers of industrial robots, with 400,000 currently installed in factories around the world; and Drives, Motion & Control, with flexible automation solutions for numerous sectors and applications.
The opening of new branches will support the central office in Barcelona and serve to underpin both business units and consolidate the synergies between them. According to Bodin: "Our focus is to continue to create and promote the ideal conditions to respond to the needs of the markets and the customers".
Showroom and training
After 30 years on the Iberian Peninsula, the subsidiary's two divisions will continue in their respective locations in the province of Barcelona. The robotics offices in Gavà, cover an area of over 1,400 m² including a showroom and the Yaskawa Academy, a center offering training on each product. The facilities of Drives, Motion & Control are in Sant Cugat del Vallés, which provides personalized training courses in addition to support and sales.