Costco starts construction in Madrid on its third store in Spain
06 November 2019
It will invest around 45 million euros and create 200 direct jobs when it opens its doors
The US hypermarket chain Costco has started construction work on its third store in Spain, which follows on the heels of its stores in Seville, in 2014, and Getafe (Madrid), in 2015. Costco operates under the format of a members-only shopping club and is currently one the world's largest retailers.
The new Costco store will be located in Las Rozas (Madrid). The multinational will invest approximately 45 million euros in its construction and, once operational, it will have at least 200 employees. These figures are in line with its first two stores, which in their time represented an investment of 100 million dollars and the creation of 500 direct jobs, including the employees in the main offices.
New construction
The inaugural act for the construction works, shown in the photo, was presided by Diane Tucci, vice president and general manager of Costco Spain. She was accompanied by José de la Uz, mayor of Las Rozas, the companies involved in the sale of the land and construction, and other political and commercial representatives.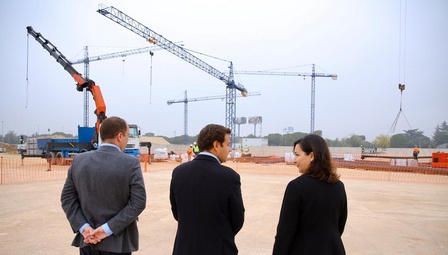 The new building will have a retail area of 14,000 m², and is located on a 37,500-m² site. It is scheduled to open before next summer. Located beside the A-6, the La Coruña freeway, Tucci explains: "We have chosen Las Rozas because it's a vibrant community that embraces modernization. The demographics indicate that there are many large families, which is an added attraction for us".
The multinational is currently on the lookout for opportunities to grow with new openings in other points of Spain.