Wello and Saipem join forces in a research project in the Basque Country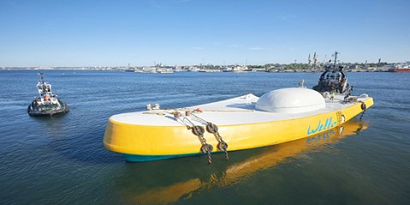 07 November 2019
Wello and Saipem join forces in a research project in the Basque Country
The Finnish company Wello Oy has decided to transfer its wave energy converter (WEC) to be deployed on the marine energy platform in Vizcaya (BiMEP). Located in the open sea opposite the coast of Armintza, this platform is used for research and the technical testing of prototypes for floating renewable marine energy devices.
BiMEP and the Ente Vasco de la Energía (EVE) have assured part of the funds necessary for the installation, implementation and operation of the Penguin WEC on the platform. The Italian company Saipem has also joined the project and will be responsible for the transfer from the Orkney Islands to the BiMEP testing area.
Participation in the project
According to Francesco Balestrino, Renewables and Green Technologies Business Development Manager for Saipem's Xsight division: "This project represents Saipem's first opportunity to carry out a project in the marine energy field that is consistent with our diversification strategy. It also proves Saipem's commitment to providing its clients with new sustainable solutions".
Wello and Saipem's cooperation could help promote renewable wave energy, a source of clean energy that has yet to be tapped. Wello's first prototype was deployed in Scotland in 2012, and exceeded the Finnish developer's expectations during the testing period. That experience and some new implementations have been transferred to the new model, the Penguin WEC, which is the state of the art.
The most innovative technologies
Construction was finalized on the Penguin WEC in June, and the agreement with Saipem will now make it possible to optimize its technology and develop future initiatives in the sector. "Xsight is committed to scouting for the most innovative and promising technologies available on the market and to providing technological and financial support to their development with a view to making them suitable for commercialization", assures Balestrino.
Heikki Paakkinen, CEO of Wello, says: "The Basque country has huge potential for wave energy. We know that we can create many opportunities in the Basque country and across the globe. We are excited for the coming months and look forward to working with BiMEP on this project".