Vehicle production in Spain grows again in 2019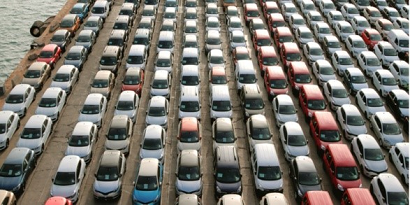 18 February 2020
Exports to Europe drive an increase of 0.1% to over 2.8 million units
Just when it appeared that in 2019 Spain was not going to equal the figure of vehicles manufactured the previous year, everything changed in December. Much of this increased production in the final month of the year is due to the main European markets, where the models produced in Spain are very successful.
In December alone, a total of 177,427 vehicles left the Spanish plants. The figure was 21.2% up on that for November, when the forecast was that the year would end in negative territory. As a result, the Spanish industry was able to move out of the red and post a very slight growth of 0.1% in 2019, at 2,822,360 units manufactured.
The strength of the Spanish industry
Although slight, the growth in Spain is a sign of the strength of the European market, where other major manufacturers have recorded significant falls in production in 2019. For example, in the automobile segment, in which Spain closed the year with a slight fall of 0.3%, Germany posted a fall of 9%, while through November the UK had a cumulative fall of 14.4% and Italy of 19.6%.
The Spanish Association of Automobile and Truck Manufacturers (Anfac) attributes these results basically to the positive way the market has reacted to the new models and versions of light commercial vehicles assigned to Spanish factories in 2018 and 2019. The 12.3% growth in these vehicles, together with the 7.7% growth in heavy industrial vehicles, offset the fall in other segments.
Exports feed the factories
The positive reaction in European markets to vehicles manufactured in Spain has led to an increase in exports, which have offset the decline in domestic sales in what is one of the biggest manufacturers on the continent. December also helped in this area, with a 20% increase in exports. In the year as a whole, 2,310,070 vehicles were exported, 0.2% more than in 2018.
Anfac estimates that the increase in exports is due to the recovery of the main export destinations in Europe. Germany increased its imports of Spanish vehicles by 12.5%, and the UK by 13.5%, despite a 2.4% decline in its domestic market. Italy also increased Spanish vehicle imports by 1.7%, while the figure for France remained at 2018 levels. Anfac points out that between them these four countries account for 64.8% of Spanish exports.
Distant destinations
Other more distant destinations also contributed to an increase of nearly 20,000 units in Spanish vehicle exports. The countries involved are Japan (121%), South Africa (24.9%), the United Arab Emirates (64.2%), Israel (12.6%), Ukraine (152.7%) and Morocco (15.2%).
For 2020, Anfac forecasts moderate growth in manufacture, hoping to reach the figure of three million vehicles. This forecast is supported by the further awards of models and versions announced last year.