Cimcorp opens an office in Madrid to meet the demand for its robotics solutions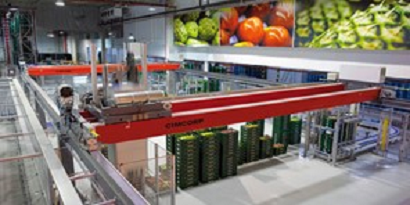 05 March 2020
In 2019 it received an order from Mercadona worth over 120 million euros
The Finnish company Cimcorp, specialized in robotic automation for logistics plants, has opened an office in Madrid to respond to the growing interest it has detected in its solutions in the Spanish market. Cimcorp Iberia has appointed Jarkko Hakkarainen as its general manager to head up the new subsidiary.
Tero Peltomäki, Executive Vice President of Operations and Technology at Cimcorp, explains: "Our decision to expand our presence into Spain is a logical step at this point and supports our growth strategy. We have a well-established customer base in Spain and our material handling systems are in high demand there".
Orders from Mercadona
In the spring of 2019, Mercadona placed an order worth over 120 million euros for Cimcorp to automate the distribution of fresh foods in four new distribution centers. According to Peltomäki, this is the company's largest ever order in the intralogistics market: "This is the right time to establish a base in Spain, to ensure that we meet the evolving needs of Mercadona and other customers, and that we allocate our resources in the best possible way".
In recent years Cimcorp has previously supplied other companies in addition to Mercadona, including Eroski and Michelin. Now, explains Peltomäki, "local presence in Spain will enable Cimcorp to strengthen relationships with our existing customers, as well as to create new partnerships. The central location of our Madrid office and its excellent transport connections to all our customer sites will mean smooth project management and timely response to requests for customer support".
Appointment in Spain
To head up the new Spanish subsidiary, Cimcorp – part of the Japanese group Murata Machinery – has appointed Jarkko Hakkarainen as general manager. He has over 20 years' experience in international business and speaks fluent Spanish and Portuguese. In his first declarations he says: "I believe that open communication with all stakeholders (customers, partners and employees) is the key to success. We work with international business leaders and our employees are highly educated experts, so it is in our interest to listen and to learn, so that we can thrive together".
As for the work that awaits him, Hakkarainen says: "I understand that cooperation with local companies in Spain has been excellent in previous projects, but we believe that we can enhance even these high levels of customer satisfaction through a team of native, Spanish-speaking Cimcorp Iberia engineers who are experts in our automation solutions".