Dopla opens two sustainable cup and plate factories in Barcelona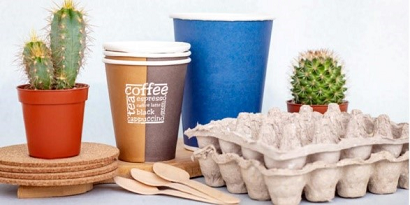 06 April 2020
This represents an investment of 18 million euros and 44 new jobs, taking the total to 230 workers
The Dopla group has launched two new production plants in its Nupik factory in Polinyà (Barcelona). With a total area of 10,000 m², the new lines will be dedicated to the production of biodegradable cups and plates. The initiative by the Italian company involved an investment of 18 million euros and the creation of 44 new jobs.
The company already had several production plants in this part of Catalonia, and now has a total workforce of 230 people. The two new lines employ a total of 60 workers, of whom 44 are new hires. The investment has been divided between building new facilities and procuring new machinery.
Biodegradable products
The two new production lines manufacture cardboard cups and cellulose fiber plates and containers. Once fully operational, Dopla expects these new activities to have an annual turnover of 20 million euros. Its other plants produce cups, plates, napkins, tablecloths and other similar single-use biodegradable products.
The main distribution channels for Dopla's products are supermarkets, specialty stores, department stores and the restaurant sector. With the launch of these new production lines, the company now also plans to begin marketing them in the fruit and vegetable sector.
Acquisition of Nupik
Dopla acquired 50% of the Catalan company Nupik in 2016, after a parallel trajectory initiated the previous decade when they joined forces with the Italian company Flo to purchase two companies in Italy. Dopla currently has a 90% stake in Nupik and the remaining 10% is owned by Flo.
The Dopla group has a total workforce of 650 employees between its plants and warehouses in Spain, Italy, Czech Republic and Poland. Together with Flo, it is one of the over 800 Italian companies that have subsidiaries established in Catalonia, according to data from the Agency for Business Competitiveness at the Catalan regional government (Acció), part of the Companies and Knowledge department.
Institutional support
Dopla's investment was supported by Acció, and it also received funding from the Catalan Finance Institute through the ICF's Industria 4.0 loans for the acquisition of new machinery with which to equip the two plants.