Spanish business schools score highly in management training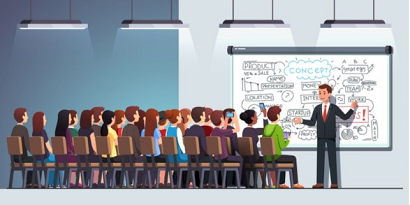 01 June 2020
IESE once again heads the Financial Times ranking, which also features another three Spanish centers
This is the first time that a business school has appeared for the sixth consecutive year in the top spot in the annual ranking of the best management training centers published by the Financial Times since 1999. This is the Spanish school IESE, for which the London-based newspaper highlights aspects such as its innovation, customization, networking, its international vocation and the quality of its teaching staff.
A second Spanish firm, Esade, is ranked eleventh, up three places since last year. These positions are repeated in both the general ranking and in the ranking of custom programs. The Barcelona-based school is also eighth in the European ranking.
ESCP Business School, which has six campuses in Europe – one in Madrid – has also risen several places this year in the list of best custom management programs, going from number 18 to 14 in the ranking. The Spanish presence is completed with Eada Business School Barcelona, which has gone from 47 to 53 in custom programs, and is now ranked 43rd in open programs.
Challenging circumstances
For Mireia Rius, director of Executive Education at IESE, the school's distinction at the top of the ranking is particularly significant in the current crisis scenario caused by the COVID-19 healthcare alert. She explains: "At IESE we have a recognized track record of helping executives, entrepreneurs and companies to flourish in these difficult circumstances. We have done this by offering programs adapted to their specific challenges and using the latest training technologies to guarantee the maximum possible flexibility, either in the online format, face to face or a combination of both".
The Financial Times ranking analyzes two types of training: what it calls "custom programs", which are specifically made to measure for each company, and "open programs", which are open to all managers. The IESE is again number one in the combined ranking, and heads the list of custom courses, in addition to being among the top ten in open programs.
Digitization
In the case of Esade, its 11th place represents a specific recognition by companies of its methodology and the excellence of its teaching staff. According to Andrés Raya, portfolio executive director of Executive Education at Esade, the school's proposal offers "unique value, based on digitization, and which combines customized attention, interactions with teachers and synchronous and asynchronous learning dynamics".
The ESCP Business School was positively rated for the degree of satisfaction of its students and its international experience. The school claims to be among the most innovative and professional in the creation of programs tailored to the specific needs of its clients.
Closing the Spanish ranking, the Eada Business School is in first place in the key parameter represented by the percentage of international students in its classrooms. According to its director of corporate relations, Pau Roig, "the internationalization of our programs has earned us an excellent position in regard to the diversity of our participants".