Fiverr launches the Spanish version of its online platform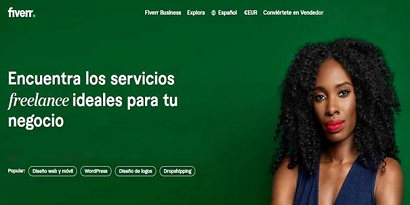 01 June 2020
It foresees rapid growth based on an active population comprising 16% self-employed workers
Fiverr, the online freelance service platform for companies, has launched its Spanish version in a new step in its international expansion. Based in the United States, last February it made its first incursion into Europe with the launch of its German version. Three months later it simultaneously started up its activities in Spain and France.
The company aims to increase demand for its professional services through its marketplace. It is hoping to transform the work market with this tool, which connects businesses of all sizes with independent professionals offering their digital services in over 300 categories, divided into eight verticals.
International expansion
"International expansion continues to be a key growth strategy for Fiverr, and we believe the potential to unlock further opportunity in the European market is huge", says Micha Kaufman, founder and CEO of Fiverr. Referring to its two new markets, he says: "Combined, France and Spain have over six million small businesses and an estimated 25 million independent workers".
The Covid-19 pandemic has served as a testing ground for the platform in these new markets. Kaufman explains that the confinement and the temporary closure of companies in which it was impossible to work remotely led to a 42% increase in visits to their Spanish portal in the first two weeks of April compared to the first two weeks of March.
Rapid growth outlook
Fiverr points out that according to the OECD, self-employed workers account for 16% of the active population in Spain. With this customer base, added to potential users in all the other Spanish-speaking countries, the platform is confident of rapid growth, which it has already demonstrated with its first steps in Spain. In the first two weeks of April, user registrations rose 95% compared to in the first half of March, and its customers grew by 61%.
Fiverr's arrival in Spain is accompanied by an investment aimed at marketing actions, public relations and specific yield. In 2019, over 2.4 million customers acquired services from independent workers in over 160 countries thanks to its platform.