Aurubis completes the acquisition of the Metallo group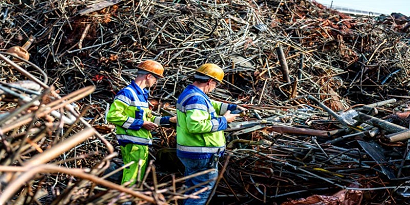 03 July 2020
The German group has paid 380 million euros for the Hispano-Belgian group, which has a total of 540 employees
The global supplier of non-ferrous metals Aurubis has completed the acquisition of the Hispano-Belgian company Metallo Group Holding. The transaction was finally closed on May 29, when the German group –the world's largest copper recycler– paid 380 million euros to its previous owner, the investment firm TowerBrook Capital Partners.
Metallo, which has a total of 540 employees on its payroll, consolidated its integration in the new group on June 1. However, due to its recognition in the recycling market, it will retain its name. With this acquisition, Aurubis increases its presence in Belgium and gains a first toehold in Spain, where the purchase has brought it a metal recycling plant in Berango (Vizcaya), employing around 90 people.

Multi-metal strategy
The purchase was originally announced in 2019, but the parties had to wait for the review of the European Union's competition authorities, who issued their favorable verdict last May 4. Roland Harings, Aurubis AG Executive Board Chairman, commented: "This acquisition represents an important step in the implementation of our multimetal strategy. Our stated goal is to become one of the most efficient and sustainable smelter networks in the world".
To achieve this aim, Harings announced: "We will integrate the Metallo production sites to form an optimized production network of our plants in Hamburg, Pirdop, Lünen, and Olen together with Beerse and Berango. This will lead to more than 1 million tons of recycling capacity for secondary material".
Low content in metals
For his part, Dirk Vandenberghe, CEO and director of Metallo, said: "Metallo specializes in processing recycling materials with low metal contents, with a focus on tin, lead, nickel, zinc, and copper. We have a 'zero waste' approach –even as the compositions of the input materials become increasingly complex. As part of Aurubis, we want to continue processing all of the input materials into valuable products, making an important sustainability contribution as one company".
The Chairman of the Board of Directors of Metallo, Patrick Verschelde, said of the transaction: "The Metallo-Aurubis merger is not just a very positive move for the two companies, it is great news for the recycling industry and Europe. The add-ons of Metallo technologies and expertise to those of Aurubis will allow the expanded Aurubis Group to treat even more complex materials in order to return to the value chain base metals which are very much in demand in Europe".