Lidl strengthens its position in the Canary Islands with a new logistics platform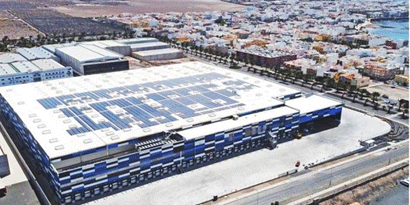 18 September 2020
It has invested 45 million euros and created 60 new jobs in a 25,000 square meter warehouse.
The Lidl supermarket chain has just passed the ten-year mark in the Canary Islands and it is celebrating this milestone with further growth. It now has thirty stores in the archipelago—after the three it opened last year—and now directly employs over a thousand people there. It has now set up a 25,000 square meter warehouse in addition to the existing warehouse in Güímar (Tenerife), to improve its logistics and to get ready for further openings.
The new logistics platform, which started operating last July, is located in the town of Agüimes, in Gran Canaria, the other big island of the archipelago. Lidl has spent around 45 million euros on the new warehouse, and recruited 60 new company employees who are are already busy working in its facilities.
Organization by provinces
Now that the new warehouse is up and running, the Güímar warehouse will shift from supplying goods to stores throughout the archipelago to focus on those in the province of Santa Cruz de Tenerife. The Agüimes warehouse is already supplying the chain's 14 stores in Las Palmas province—on the islands of Lanzarote, Fuerteventura and Gran Canaria.
The new warehouse takes up over 25,000 square meters on a plot of about 40,000 square meters. It has the capacity to store around 21,000 pallets. A total of 49 loading and unloading bays have been installed to organize suppliers' deliveries and distribution to the different stores.
The facilities are equipped with different solutions that optimize energy consumption, such as photovoltaic panels for self-consumption, and have also been awarded the globally recognized BREEAM certificate for sustainable construction.
Investment and employment in the Canary Islands
Lidl shelves are stocked with products including those bought from over 100 suppliers from the Canary Islands. In fact, Lidl invests about 50 million euros per year to buy Canary Islands products, some of which are exported to supermarkets in other countries.
It recently increased its products from the Canary Islands— including milk, meat, fish, fruits and vegetables, wine, cakes and beverages—by 40%. These investments have a direct impact on jobs in the area, and in fact Lidl employs about 3,000 people on the islands, including direct, indirect and induced jobs. Its activity accounts for 0.4% of the region's GDP, or approximately 140 million euros per year.