Belgians continue to choose Spain for their real estate purchases despite the impact of COVID-19
01 December 2020
The high quality of life and good conditions for teleworking explain these trends
The Association of Property and Commercial Registrars of Spain recently published the property purchase-sale statistics for Q3 of 2020. The general trends are characterized by a progressive drop in the purchase of property by foreigners, due to the uncertainties associated with the health crisis and the mobility restrictions. The annual cumulative figures of property purchased by foreigners was of slightly over 49,400, as compared with 53,000 of the previous quarter and 61,000 during the first quarter of the year.
However, Belgians have a high purchasing power and this combined with the increase in savings over the past few months leads us to think that these trends do not affect Belgians, who continue to purchase property in Spain. The properties they purchase are usually found on the coasts of Valencia and Andalusia and, to a lesser extent, on the Balearic islands.
A country with only eleven and a half million inhabitants, less than a fifth of the other countries in the top positions of the ranking, such as Germany, France or the United Kingdom, Belgians were the third main foreign purchasers of property in Spain during Q3 of 2020 (8.3% of the total, behind the UK (13%) and France (9%)). During Q2 of 2020, Belgium represented 5.8% of all foreign purchases, so this ratio has increased by 2.5 points.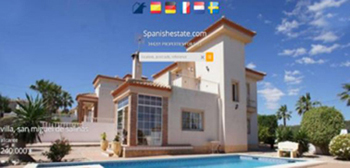 The Belgian press has already published various articles about these trends. These articles explain that Spain offers high standards of living, mainly thanks to its mild climate and a lower cost of living. Likewise, it is worth mentioning a factor that is gaining strength since the outbreak of the pandemic: Spain is one of the European Union's Leaders in terms of optic fiber infrastructures and it is also one of the best in terms of connectivity, which favors teleworking and which is currently mandatory in Belgium for all workers who can telework.

We must wait until the end of the year to assess the final data, since the registration statistics of property sale-purchase agreements during previous periods do not represent the expected and real volume of transactions, mainly due to the mobility restrictions established during the pandemic, or those corresponding to new property purchases made before the pandemic and registered at a later period.