Barcelona has renewed the agreement to promote Barceloc for two years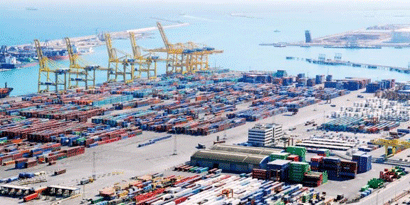 15 January 2021
The project promotes the city as a distribution platform for Asian companies in southern Europe
The Catalan Regional Government's Agency for Business Competitiveness (Acció), the Barcelona Port Authority and the city's Town Council have signed an agreement for a two-year extension to the "Barcelona China's European Logistics Center" project, better known as Barceloc. This initiative was founded in 2015 with the objective of capturing the interest of international companies to set up their distribution centers in southern Europe.
In the agreement, the three bodies make the case for Barcelona as "the main logistical hub in southern Europe and the Mediterranean".
The potential clients for whom the initiative was designed are Chinese companies, as can be seen from the name of the project. However, the promotors are not averse to attracting other Asian, European and American companies. The sectors in which they are concentrating their efforts are the automotive, electronics and chemical industries, industrial products, fashion and footwear and the sale of electronics goods.
Potential clients
Acció and the port and city of Barcelona initiated the promotion of Barceloc in 2016. The latest agreement means the renewal of collaboration in activities that include participation each year in one or transport and logistics trade fairs, the identification of potential clients and influencers, the organization of specific activities with potential clients in their own countries and the creation of promotional material, from brochures to its own website.
The agreement includes, for each of the signatories, the obligations that lie within their area of responsibility and that they will assume with regard to promoting Barceloc. Acció is also committed to investing between 15,000 and 30,000 euros to fulfil these obligations during the first two years, which is the same amount as the Town Hall. The Barcelona Port Authority will contribute between 19,000 and 38,000 euros.
Container traffic
There are four direct maritime services between the Port of Barcelona and the main ports in China. This makes this Asian country its main trading partner with regard to container traffic, both for imports and for exports.
Barceloc arose as a logical response to the Chinese government's open-door strategy and investment in foreign trade, known as the Belt & Road Initiative. This resulted in the Port of Barcelona taking the initiative to strengthen its links with Chinese companies, to becoming their port of entry and exit and their distribution platform in southern Europe.
Barceloc gives its clients free tailor-made and confidential information for them to be able to set up in Barcelona, assessment in the search for potential logistical partners, orientation on the selection of a logistical operator and support for other requirements from tax management to accessing funds and subsidies.