Panattoni announces its first logistic development in Spain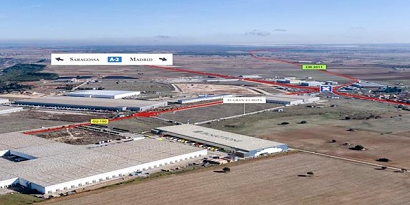 22 May 2020
With a total area of 28,400 square meters, the warehouse will have 28 docks and over 140 parking bays
Two months after opening its subsidiary in Spain, the US logistics company Panattoni already has the first project in its portfolio. The future warehouse will occupy an area of over 28,400 m² in the municipality of Torija (Guadalajara). After the acquisition of the land, construction is expected to begin in the first half of the year.
The development of Panattoni Park Madrid Este will have the endorsement of the BREEAM sustainable construction certificate. The building will be equipped with all the necessary facilities for storage and logistics operations, with 28 docks and over 140 parking bays. It will also have an accessible bus stop to facilitate its employees' commute to work.
Highly strategic location
Referring to the timing of the announcement, the CEO of Panattoni for Spain and Portugal, Gustavo Cardozo Lupi, said: "Despite the current context, Panattoni is firmly committed to the market in Spain, materializing in this first investment in Panattoni Park Madrid East, offering our clients a high quality and environmentally friendly logistics building at the most competitive rental price in the market in Corredor del Henares, a highly strategic location".
The park is located on a frontage road on the A2 freeway (Madrid-Barcelona). In addition to its location only 30 minutes' drive from Madrid – a hub with six radiating freeways – it offers excellent road connections to the whole of mainland Spain, France and Portugal. It also has a cargo container terminal 10 minutes away for its rail connections with seaports, while Madrid International Airport is 25 minutes by car.
Sixth European storage market
Panattoni announced the opening of its Spanish subsidiary on February 14, which will have offices in both Madrid and Barcelona as the main logistics centers on the Iberian Peninsula. On that date it already had over nine million m² of built industrial space in logistics markets such as Germany, United Kingdom, the Netherlands and Poland – some of the most important in Europe – and also in the Czech Republic and Slovakia.
The choice of Spain for its expansion was because of its position as the sixth largest storage market in Europe. In the third quarter of 2019, Spain had 22.1 million m² of warehouse space, supported by more than 370,000 km of roads (17,000 km of which are freeways and expressways), and by around 16,000 km of railways, of which 2,600 km are high-speed.
Robert Dobrzycki, CEO of Panattoni, explained at the time: "Spain and Portugal's position in Europe, combined with its strong infrastructure and labor costs, makes it a very attractive market for logistics investments. Moreover, the country is at the junction of the Mediterranean and Atlantic transport corridors, making it a gateway not only to European markets, but also to those in Latin America, North Africa and the Middle East".