The Financial Times rates the MBA from the IESE as the best in the world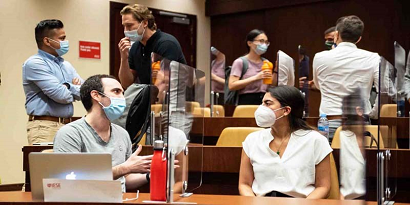 02 August 2019
Four Spanish centers feature in the ranking of the 80 best business schools
The Financial Times' global ranking of the business schools offering personalized education rates the IESE's MBA as the best in the world for the fifth consecutive year. This is a full-time program and with a flexible duration of between 15 and 19 months.
The managers who took part in the study singled out IESE's MBA due to its preparation training and the learning of new skills. The study methods and materials and the faculty also scored highly. The parameters analyzed on the school included particularly the broad internationalization of its student body and its personalized support.
Four Spanish schools
Another three Spanish business schools also appear in the ranking. The ESADE Business School stands at number 14, and is followed in 18th place by ESCP Europe, which also has branches in France, United Kingdom, Germany and Italy; and the final Spanish presence is EADA Business School Barcelona, at number 47.
The IESE is the first school to maintain the top spot since the Financial Times first introduced the ranking in 1999. The classification distinguishes two types of programs: the IESE is once again number one among personalized programs, and sixth in open programs. In the combined list, IESE continues in first place for the fifth year in a row.
Personalized programs
The personalized programs offered by the IESE are prepared for customers from around the world. The school itself highlights the personalized programs it has designed for companies like Abertis, BBVA, BMW Group, Boehringer-Ingelheim, Caixabank, Enagás, Enterprise Ireland, Erste, Grupo Correos, Idom, Naturgy, Nissan, Oracle, Rijkzwaan, Schneider Electric, Shiseido, Telefonica, Traton UNDP and United Parcel Service.
According to Mireia Rius, director of Executive Education and member of the IESE's board of directors: "We are extremely proud of having achieved this historic milestone, which reaffirms the trust placed in IESE by our students, participants and corporate customers. This legacy reflects IESE's track record for offering high-level programs, and is evidence of our rigorous research-based teaching capacity and our ability to offer very high levels of customization to meet the personal and professional needs of executives, entrepreneurs and companies".