Messer will build a new production plant in Vilaseca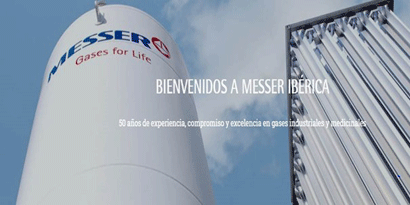 19 October 2020
The new facilities will create 20 jobs, plus the 200 from the construction phase 
The German group Messer will celebrate 50 years since its Spanish subsidiary was set up by building a new factory in Vilaseca (Tarragona) and modernizing the facilities it has in the same location, in the south of the Tarragona chemical complex. The new air separation unit (ASU) will allow the company to expand its activities, increase its competitiveness and strengthen its growth.
About 200 people will work in the design and construction phase. When the plant starts up, predicted to be in December 2021, it will employ more than 20 people, who will handle the daily production of 2,400 tons of oxygen, nitrogen and argon. These gases will be injected into its own network of more than 90 kilometers of gas pipelines, which have supplied Tarragona's chemical industry for 50 years to maintain the safety of chemical processes. Another part of the production will be liquefied and stored in tanks to be supplied by tanker trucks.
Cryogenic fractionation
Messer production plants do not produce polluting emissions. Its raw material is the air from the atmosphere, which is separated into nitrogen, oxygen and argon through a cryogenic fractionation process. These gases are used in almost all industrial sectors, in research and science, and in the healthcare sector. One of the group's objectives is to obtain authorization as a pharmaceutical laboratory that will allow it to produce medicinal gases.
During the ceremony in which it was announced that the new plant would be built, the CEO of Messer Ibérica, Karl Hauck, stated, "It's great news to be able to announce in the year of Messer Ibérica's 50th anniversary the construction of this new air separation plant in Camp de Tarragona. During this time in which we are in the midst of a pandemic, Messer had to prioritize investments worldwide, and it has decided on Spain. This confirms the Messer Group's long-term commitment to this territory".
Model investment in the industrial field
In turn, the mayor of Vilaseca, Pere Segura, appreciated the opportunity that this investment represents at the present time, "It is a model investment in the industrial field. Messer places value on and complies with its Gases for Life slogan".
The Minister of Business and Knowledge of the Generalitat, Ramón Tremosa, also attended, who highlighted, "It's wonderful news that a company that has been in Catalonia and the region for 50 years continues to invest in the country with investments focused on the energy transition and a industry as attractive as the chemical sector". In addition, he explained, "This investment will not only create jobs, but is also on the right track in terms of the energy and environmental transition we need."