HIG Capital acquires 40% of Madrid Content City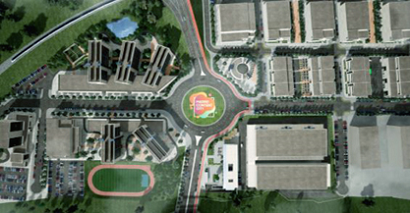 10 February 2021
The investment guarantees financing for the construction of the new phases, which will end in 2023
The Madrid Content City project, developed in Tres Cantos (Madrid) by the Roots group, has received a major boost with the entry into its shareholding of the US investment firm HIG Capital. The 40% acquisition came from a capital increase, and reinforces the financial solvency of the audiovisual business park, which is already in operation but will continue expanding until at least 2023.
Madrid Content City will boast 12 recording studios, three office buildings, a university with 7,000 places and a residence for more than 250 students, and when fully operational it aims to become the second largest audiovisual production centre in Europe, second only to Pinewood in the United Kingdom. Covering a total of 140,000 square metres, its facilities will also include five restaurants, eighteen auxiliary buildings, a large commercial area and an auditorium.

First phase in operation
The first phase of the park is already in operation, featuring 22,000 square metres in which there are already five active studios, as well as a post-production centre and an auditorium. In addition to the Secuoya group, the audiovisual producer developing the project with four other partners, these facilities are already in use for filming by the American platform Netflix, which has made Madrid Content City its top European production centre.
In addition to becoming a production leader in Europe, Secuoya's plans include striking strategic alliances with the U.S. industry. This explains the appointment of James Costos, U.S. ambassador to Spain during Barack Obama's presidency, as executive chairman of Secuoya Studios, coinciding with the opening of an office in Los Angeles. On that date, April 2020, Raúl Berdonés, chairman of the Secuoya group, said: "Costos will be a key player in the development of Spanish audiovisual productions and he will also help fulfil the increasing demands of the North American film industry".

Boom in content production
After the recent announcement that Disney+ plans to start shooting its own productions in Spain, Madrid Content City has been flagged as a possible operations hub. Pending confirmation of this important news, Riccardo Dallolio, managing director of HIG in Europe, says: "Madrid Content City will benefit from strong secular tailwinds underpinned by the boom in content production. The state-of-the-art studios and related facilities, the exceptional multinational tenant line-up with long term leases, and its critical mass will make it a leading content production hub in continental Europe".
Esteban Caja Samboal, head of HIG Real Estate for Spain, adds: "We are very pleased with the partnership with Roots Group, which will boost the development of Madrid Content City and allow us to make full use of opportunities in the audiovisual sector, as it continues to experience strong demand for content production thanks to the global success of fiction".

For his part, Berdonés points out: "HIG's entry in the capital bolsters confidence in the path taken by Roots Real Estate in its efforts to launch a business park such as this, a production centre that was born in a favourable scenario for the Spanish audiovisual industry, and which has become an international benchmark thanks to the global success of fiction. This partnership also represents financial recognition in terms of consolidating the group and attaining future projects in Spain and Latin America".