Panattoni has invested over 100 million euros in Spain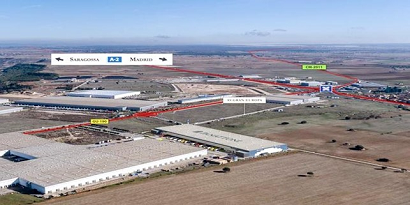 17 March 2021
The logistics promoter arrived in the country a year ago and plans to double its investment by 2021
The logistics-industrial real estate developer Panattoni has invested over 109 million euros in its first year of activity in Spain. This investment has been earmarked for six projects that have already been announced, exceeding 106,000 square metres of gross leasable area (GLA), and other projects yet to be disclosed that will add another 100,000 square metres to its portfolio.
For its second year in Spain, the company has an expansion plan whereby it will seek to acquire a presence in key sites on the Iberian Peninsula, specifically Getafe, north Barcelona, Lisbon and Bilbao. As its arrival in Spain coincided with the beginning of the pandemic, Panattoni has adapted to the new reality of the market and focused on acquiring land on which to develop new buildings that meet the quality standards demanded today and at competitive prices.

190 million euros
The company plans to end 2021 with 200,000 square metres under construction or under way on the Iberian Peninsula, and intends to add another 280,000 square metres to be developed in 2022, representing a total investment of 190 million euros.
Gustavo Cardozo, CEO of Panattoni for Spain and Portugal, explains: "Panattoni Europe has celebrated its 15th anniversary while consolidating its first year in Spain, where we will continue to acquire land and increase our possibilities of starting new developments during 2021. The e-commerce boom is increasing the demand for logistics warehouses of different types and locations, boosting the real estate sector to levels never before imagined".

Centre north of the Iberian Peninsula
One of the six projects that have started development this year is Panattoni Park Madrid Este, located in Torija (Guadalajara), with an investment of 15 million euros and a GLA of 28,400 square metres. Construction began in the first half of 2020, and it will be occupied by Leroy Merlin, probably in the second half of 2021.
Another project is Panattoni Park Vitoria, located on the Jundiz industrial estate (Vitoria, Alava), with an investment of 25 million euros. Work will begin in May to condition 22,000 square metres of GLA to be delivered in January 2022.

The Mediterranean corridor
Also in the north is Panattoni Park Zaragoza City I, located in the Plaza industrial estate in the capital of the Aragon region. Work began in November 2020 and will end in July with an investment of 20 million, representing the launch of 9,200 square metres of GLA on the market.
The U.S. company has two projects under way in the Mediterranean corridor. Panattoni Park Valencia Sur, in Picassent (Valencia), will consist of a warehouse with 20,000 square metres of GLA, and an investment of 16 million euros. Work will begin in the fourth quarter of this year and continue until the second quarter of 2022.

Southern Spain
Panattoni Park Barcelona City I is scheduled to be built in Catalonia, on the Can Estapé industrial estate in Castellbisbal (Barcelona). It is a warehouse with 18,000 square metres, and represents an investment of 15 million euros. Work will begin in the third quarter of 2021 and be completed in the second quarter of 2022.
The last of the projects announced is in the south, on the Las Salinas industrial estate in Puerto de Santa María (Cadiz). Known as Panattoni Park Cadiz City I, it will involve an investment of 18 million euros and develop 9,000 square metres of GLA. It has been under construction since December 2020, and will be completed in July.