Spain will host the head office of the A400M program
14 May 2018
Airbus's new defensive transport aircraft already has 174 orders and 58 units delivered
On April 26, during the interministerial meeting of the A400M program, the nations in the consortium and the Organization for Joint Armament Cooperation (OCCAR) agreed to transfer the management office for this program to Spain. This was announced at the end of the meeting by Agustín Conde, Secretary of State for Defense, who took part on behalf of the Spanish ministry.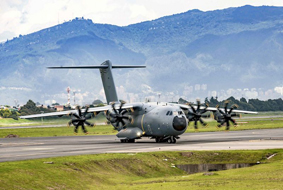 The A400M transport aircraft is at the forefront of the latest technological developments, and offers enormous potential for interoperability and operational effectiveness in defense missions. Currently 58 units have been delivered and there are orders for up 174.
The A400M program will be supported by a consortium whose members include Germany, Belgium, Luxembourg, France, United Kingdom, Turkey and Spain. The Organization for Joint Armament Cooperation (OCCAR) is formed by Belgium, France, Germany, Italy, Spain and United Kingdom.
After the announcement of the transfer Conde described the news as very positive, and cited it as evidence of "Spain's capability and commitment to this project and the backing and support of our partners and OCCAR".