Representatives from Spanish venture capital firms meet with Israeli investment funds
10 July 2018
The business mission organised by ASCRI, Invest in Spain and the Spain-Israel Chamber of Commerce and Industry led to 55 bilateral meetings and a collaboration agreement with IATI
The Spain-Israel Chamber of Commerce and Industry, Invest in Spain and the Spanish Association for Capital, Growth and Investment (ASCRI) organised a business mission to Israel which served as an opportunity for the Spanish delegation to gain a deeper understanding of Israeli innovation, and to hold meetings with investment funds, innovative companies and Israeli institutions, in a series of 55 bilateral encounters.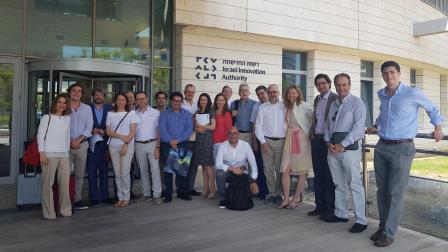 During the trip a collaboration agreement was also signed between ASCRI and IATI, an organisation that groups Israeli high-tech and life sciences companies, to promote relations between Spanish venture capital companies and Israel's most innovative companies.

The participants had an intense schedule of meetings with various business incubators, companies and organisations, particularly focused on the most active business sectors in order to seek investment opportunities. The Israeli funds participating in the meeting were: Vertex, F2, Magma, Giza VC, OurCrowd, Green Soil, Kaedan, Terra, Maniv, Food Lab Capital, Hutchinson and Genesis.

The mission also included presentations and a workshop analysing the investment ecosystems in both countries, and looked at some successful cases of co-investment between Cardumen Capital, OurCrowd and Swanlaab. There was also time to visit the offices of the Israel Innovation Authority and the Hebrew University's technology transfer office (YISSUM), to attend a reception at the Spanish Embassy in Tel Aviv, and to establish dozens of additional networking contacts.

This was an excellent opportunity for the Spanish representatives to learn more on the terrain about the Israeli innovation ecosystem, and to start exploring investment possibilities with Israeli funds and for collaboration with institutions in Israel. This mission by the Spanish delegation is a further step in bilateral relations, and the aim is to work jointly to strengthen the existing links.