Carnival Cruise chooses Cadiz for the refurbishment of one of its liners
03 September 2018
This is the first time the company has sent one of its ships to a dry dock in Spain
As part of the ambitious refurbishment program of its transatlantic cruise ships, Carnival Cruise, one of the largest pleasure cruise operators on the planet, has announced that one of its ships, the Carnival Triumph, will undergo a complete makeover in the Navantia repair shipyard in Cadiz. The ship will go into dry dock on March 1 2019 and be re-launched two months later under a new name, Carnival Sunrise.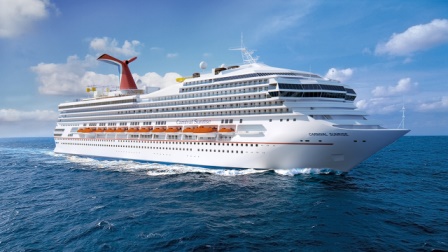 Carnival will invest around 200 million dollars in a change of image that will include the redesign of the two luxury suites located over the navigational bridge and an update for all the cabins. It will also add to and enhance its sports facilities, which include a basketball court, a minigolf course, and other leisure areas such as the large water slides in its swimming pools, a luxury spa and extensive shopping areas.
After its makeover, the ship will join the company's Sunshine class, and will once again offer cruises along the east coast of the United States. "The new Carnival Sunrise is part of our multi-billion-dollar ship enhancement program that is transforming our fleet on an unprecedented scale", says Christine Duffy, president of the Carnival Cruise Line.
A company with its own shipyard
What the company omits to explain is the most important aspect for the Cadiz facility. As Ramón de Lara, Navantia's commercial manager for repairs, explained to the newspaper Diario de Cádiz, Carnival is the co-owner of a shipyard in the Bahamas, so this contract was not easy to win. They had to demonstrate their capacity, the quality of their work, and the benefits of bringing the ship across the Atlantic rather than transporting all the necessary supplies to the Caribbean island to undertake its radical overhaul.
According to this local newspaper, during the 37 days the works are scheduled to last, it is calculated that the shipyard's regular workforce will need to be increased by 1,000 additional workers. Additionally, rather than onboarding thousands of employees from other subcontracted companies for the interior refurbishment, the agreement specifies that these works can be outsourced to local companies.
Diario de Cádiz also announced that another contract has already been signed for a similar refurbishment of the Carnival Victory in 2020.