Athos Solar finalizes the construction of its first project in Spain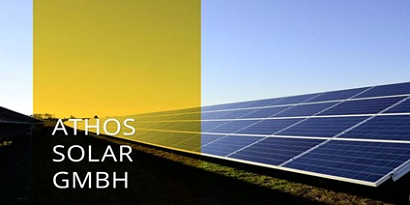 20 December 2019
It will install 105,000 subsidy-free solar modules with a maximum power of 40 megawatts near Albacete
Next spring, after a construction period of around six months, the first solar plant built in Spain by the German company Athos Solar will be connected to the electrical grid. Located beside the city of Albacete, the facility will stand on a site of 90 hectares (around 130 football pitches), on which over 105,000 photovoltaic modules have been installed since October.
After it comes on line, this plant – which has a maximum installation of 40 MW – will generate over 80 million kW per hour of energy, enough to supply electricity for consumption by 22,600 three-person households. According to Christian Linder, managing director of Athos Solar, this will save the generation of around 41,500 tons of CO2 each year.
The cheapest source of energy generation
The company decided to invest in Spain due to the drop in investment costs and the high solar irradiation, making the Spanish electricity market one of the first in which solar energy has become cheaper than all other energy sources.
"Southern Spain is one of the regions in Europe with the highest level of solar irradiation. The solar power yields are correspondingly high and make photovoltaic plants a very good, sustainable infrastructure investment", says Linder.
Connection to the grid
The solar plant will initially be collected to the public electrical grid via a private 132 kV transformer substation, and then through a 400 kV transformer substation that is part of the public infrastructure. This last substation has the largest transformer currently installed in Spain, and is equipped to allow the connection of renewable energy plants with a total installed capacity of 800 MW.
The German company headquartered in Heidelberg specializes in investing in and developing projects, and acts in all the stages of the process until they are ready for use. That is, once the new plant comes on line, the aim is to sell it to institutional investors. The construction has been undertaken without any subsidies thanks to the investor's confidence in its profitability.
"Renewable energy plants only start to play a key role in energy supply when the investment and operation makes sense financially. We regard subsidy-free photovoltaic plants as the next step in the transition of energy markets and the fight against climate change", says Linder, who plans to expand the company's activities in Spain in the future due to its attractive growth outlook.