Grenergy starred in the only premiere on the Spanish stock market of 2019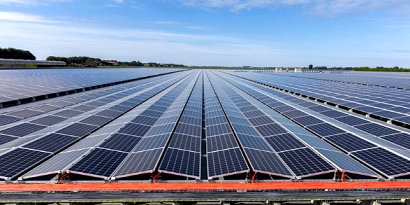 13 January 2020
Over 20 investors from the financial hubs of London, Oslo, Helsinki, Zurich and Paris entered the prior placement
Last December 16 the renewable energy producer Grenergy made its debut in the continuous market of the Madrid stock exchange. Its shares began listing at midday at a price of 16.10 euros each. The company, which had previously been present since 2015 in the Spanish multilateral trading facility (
Mercado Alternativo Bursátil
, or MAB), thus made its leap to the senior market.
In the four years Grenergy has been listed on the MAB, it has become the most revalued company on the Spanish stock exchange. In this short space of time its value has risen fourfold, from 31 million euros at its launch to the more than 400 million with which it closed on Friday December 13.
Volume of shares in circulation
Grenergy requested its entry in the continuous market on November 15, and its application was approved by the CNMV on December 5. Before the transaction became effective, it had to increase the volume of shares in circulation (free float), which at the time was 24.3 million.
The CNMV's requirement was met before the close on December 13 with the placement of 10% of the company's capital – a total of 2,429,000 shares – which were sold for 30.3 million euros. This represented a unit price of 12.50 euros, a 13% discount off the average price of the 30 previous sessions. The free float was thus approximately 32%, and exceeded 1,400 shareholders.
Composition of the shareholders
On December 16, David Ruiz de Andrés, owner of Daruan Group Holding and the founder and CEO of Grenergy, attended the launch of Grenergy on the continuous market, maintaining his position as majority shareholder. He held 16,539,590 shares, representing 68% of the company's capital stock.
The demand for shares in the placement prior to entry on the continuous market was 4.5 times higher than the minimum range for the transaction, and over 2.5 times higher than the book ultimately placed, so the shareholder base was increased by over 150 investors. These included 40 institutional investors – over half of whom were foreign – from the financial centers of London, Oslo, Helsinki, Zurich and Paris.
A leader in renewables
Days before the launch, Ruiz de Andrés said: "Our imminent listing on the continuous market reinforces our position as a leading actor in the renewable energy sector while expanding our shareholder base and offering greater liquidity to our shareholders".
Grenergy Renovables was created in 2007 as an independent producer of energy from renewable sources. Specializing in wind and solar power, it covers all phases of the projects, from development through to operation and maintenance. Its business model combines energy generation with asset rotation.