Solarcentury and Encavis lay the first stone of Talayuela Solar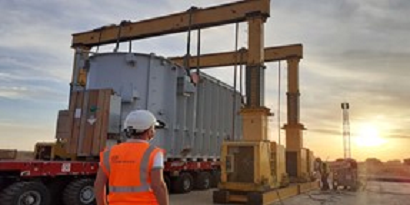 18 February 2020
It will be one of the biggest solar farms in Europe, with investment of 225 million euros
The construction of the Talayuela Solar photovoltaic farm, located near the town of Talayuela in the province of Caceres, is already underway. On January 15 there was an official ceremony laying the first stone of what will be one of the biggest solar farms, with a capacity of 300 megawatts, equivalent to the energy requirements of 150,000 homes for a year, and with direct investment of 225 million euros.
Over the coming months, until the end of the construction stage, the new facility will create up to 400 direct jobs at its peak. Over 100 of these workers will have stable jobs for the year that the work is expected to last. Under the agreement concluded between Solarcentury and the town council of Talayuela, priority will be given to local companies and people from the town and neighboring areas.
Shareholders and promoters
The Talayuela Solar project is an initiative of the British company Solarcentury, which has received support from Genia Global Energy Solutions and Kompa Solaire Sasu for its development. Currently, the developer has a 20% stake in the project, with the remaining 80% corresponding to the German company Encavis, a specialist in the operation of facilities of this type.
The plant is expected be connected to the grid at the end of 2020, and will operate without the need for public subsidies, thanks to a power purchase agreement (PPA) that will ensure stable and guaranteed income for the first ten years of operation. It has received financial backing for its construction from the European Investment Bank and Deutsche Bank, together with a finance facility of 54.8 million euros from British financial institutions.
Clean energy and a sustainable facility
Talayuela Solar is not content with becoming a model in the generation of clean and sustainable energy. The project will also install its 830,664 panels in an area of 820 hectares without the use of concrete to cement the structures, thus reducing their environmental impact. The design includes the planting of 1,600 holm oaks and the creation of a number of viewpoints for bird watchers.
According to Neil Perry, CFO of Solarcentury, "Talayuela Solar is a truly positive milestone for Solarcentury. Since the start of construction we have contributed to creating new jobs, improving biodiversity and making a real difference in the fight against climate change. Talayuela Solar clearly demonstrates how solar energy can contribute to a 100% renewable future without the need for government subsidies."
Long-term power purchase
The CEO of Encavis, Dierk Paskert, explained: "This first long-term power purchase agreement (PPA) with guaranteed prices concluded for a solar farm is a milestone for Encavis. It opens up the possibility for other contracts of this type and supports our Fast Forward 2025 consistent growth strategy, which makes us proud of the launch of the solar farm of Talayuela this year."
Solarcentury plans to implement new projects in Spain with a cumulative capacity of one gigawatt, 20% of the 5 gigawatts it has planned worldwide.