Jacob Holm reinforces the Sontara plant in Asturias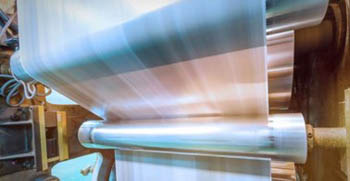 06 October 2020
It is increasing Sontara's capacity by more than 60% and diversifying its product portfolio
Jacob Holm, the Swiss pharmaceutical company, has launched an investment plan at its Asturias production plant. This plan will expand the manufacturing capacity for non-woven medical materials and critical cleaning wipes. It will also go some way toward diversifying the product portfolio of the Sontara brand production plant, one of the four Jacob Holm plants serving this market.
The Swiss company's investment will greatly improve the current production line, which will increase its production capacity by more than 60%, and it will also add new product lines. This is quite a large investment in a context in which the COVID-19 pandemic has led to a profileration of products such as surgical masks and personal protection equipment, two of the products that Sontara manufactures in Asturias.
Over a million masks donated
As the Group's CEO Martin Mikkelsen explains, "Jacob Holm is committed to meeting the needs for non-woven medical materials for masks, surgical gowns and disinfectant wipes across Europe. He goes on: "Sontara has been a reliable supplier of non-woven medical materials for over 40 years. We are thrilled to be able to provide high-quality personal protective equipment (EPI) fabrics directly from our Asturias plant. Sontara Asturias' demand for these COVID-19-related items has greatly increased and so far it has donated more than one million non-woven masks".
The first phase of investment was completed in July, immediately increasing the production capacity of the Asturias plant by 50%. The second phase is planned for the first quarter of 2021. These investments will also strengthen the Swiss Group's position as a leading supplier of sustainable non-woven solutions.
Sustainable product range
Before the investment plan was launched, the Sontara plant produced several small textiles. As the improvements have been implemented, it can now increase its range of sustainable products by adding non-woven fabrics produced from natural and biodegradable raw materials such as cotton and hemp.
Mikkelsen stressed: "Jacob Holm is firmly committed to global sustainability and we aim to steer our industry toward sustainable solutions. This investment represents one little part of Jacob Holm's sustainability strategy, which is part of our goal to have a positive impact on our world".