Golf attracts 1.2 million foreign tourists every year
17 November 2020
The sector generates €12.769 billion and creates 121,393 jobs in Spain 
The golf sector generates €12.769 billion and creates 121,393 direct and indirect jobs in Spain every year, attracting 1.2 million foreign tourists. These are the main figures of the study "Golf as the catalyst of economic activity in Spain", prepared by IE University in collaboration with the Spanish Association of Golf Courses (AECG) and the Spanish Royal Golf Federation (RFEG).
This is the first independent study that analyzes the relevance and profitability of golf in Spain. Its authors highlight the role of golf during the economic recovery phase that Spain must address after the pandemic. According to the report, our country is the global leader in international golf tourism.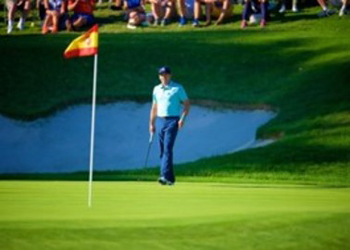 Impact on other sectors
The direct impact generated by this activity of the tourism industry is worth €5.418 billion, reaching €12.769 billion if the indirect impact is included. Specifically, the profits of this activity, reaching an impressive 88% (7 of every 8 euros) have an impact on other sectors, such as hotels, restaurants, shops and transport. These activities that not directly associated with golf share €4.640 billion.
In 2018, 1,195,000 tourists visiting Spain practiced golf during their visit. 98.6% of these tourists came from other European countries. According to the report, this is quality tourism, since they spent 11.9 days on average, versus the 7.4 days spent on average by tourists visiting Spain. In addition, golf players visiting Spain spent 3,850 euros on average, with a daily expenditure of 324 euros.
Diversification away from seasonal tourism
Golf also helps cater to other needs of Spanish tourism, such as the diversification away from seasonal tourism, receiving golf tourists any month of the year. Therefore, it strays away from traditional tourism seeking for sun and the beach, which mainly concentrates during the months of July and August.
Moreover, golf creates quality jobs, with 95% direct jobs with indefinite contracts and 94% are full-time jobs. On average, 73.2% of all jobs associated with golf in Spain are indefinite contracts and 85% are full-time jobs.
Another factor placing golf as a catalyst of economic activity is investment in second homes. The report indicates that 23.7% of tourists play golf in Spain and have a second home here for their stay. In total, they own 283,000 homes, valued at €41.937 billion. In fact, most of these owners come to Spain at least once a year and 21.49% come at least one every three months.
Safe and sustainable destination
Claudia Hernández, Chairwoman of the AECG, stated "We have the opportunity to highlight our strengths and contribute to our country's economic recovery. Golf is a healthy activity, capable of transmitting the perfect image to project a safe and sustainable destination".
Moreover, Gonzaga Escauriaza, Chairman of the RFEG, stated that "For some time now, I have been a witness of how golf tourism has changed many of our country's towns and cities. Hotels that used to close during the winter are now open, new golf courses have been built, with new leisure and restaurant offers, new transport infrastructures, etc. Without a doubt, golf tourism has generated new tourism offers and initiatives to help to reduce seasonality in the sector, driven by global leaders".