Wello commences testing of its wave energy penguin in the Basque Country
27 October 2020
Saipem will be in charge of this two-year project to convert wave movement into energy 
Wello, the Finnish company, has begun testing of its wave energy conversion project off the coast of the Basque Country. The Penguin Wave Energy Converter (WEC) left Orkney (Scotland) on 26 September on a two-week journey to the Biscay Marine Energy Platform (BiMEP), 1.5 kilometers off the coast of Arminza, in Lemoniz (Biscay). In this challenging voyage, it was towed across the Irish Sea and down the west coast of France.
The move was coordinated by the Italian company Saipem, which will also be responsible for Penguin WEC's operations at sea for the next two years. During this period, the device will remain moored at the BiMEP, which has been installed in the open sea to test the built-in wave and wind energy conversion devices.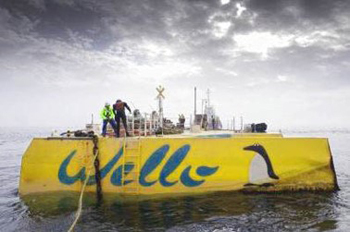 Second prototype
Wello's first prototype began testing in Scotland in 2010. The second prototype, which has now been moved to the coast of Biscay to prove its effectiveness, has been developed using the improvements and new tools based on the first. It consists of a 44 meter long floating barge-like hull, equipped with a rotor connected to a generator that converts wave motion.
Wello and Saipem signed a memorandum of understanding in September 2019 to jointly implement this project. At the same time, Wello decided to move the research and technical testing platform to Biscay, where this month the Penguin has docked. Instrumental in this decision was the involvement of the Ente Vasco de la Energía (EVE), which provided part of the funds needed to install and implement the platform, and for the Penguin to be used in it.
The Penguin has been designed to produce large amounts of energy with minimal maintenance. While boat designers usually try to create vessels which are as stable as possible, Wello's engineers have done the opposite with their hull, in order to make the most of the sea's motion. As the Finnish company explains on its website, "wave energy will help us to have a cleaner world and secure our future".