Copenhagen Infrastructure Partners are investing in 27 wind farms in Teruel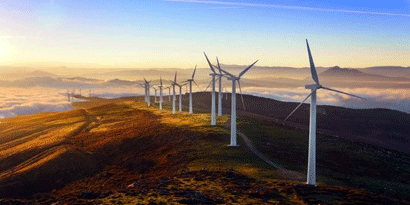 25 January 2021
They will renew their association with Forestalia to promote its construction as a result of the success of the previous operation
Copenhagen Infrastructure Partners (CIP), the Danish fund manager, has renewed its association with Forestalia for the promotion of a new portfolio of land-based wind farms. Located in Teruel, a total of 27 wind farms will achieve a total installed capacity exceeding one gigawatt.
This will be the second joint project between CIP and the company from Aragon in Spain. The Danish fund manager decided on its participation as a result of the success of its previous investment, currently under construction. This involves a portfolio of 12 wind farms with a total installed capacity of 487 megawatts. They are also located in the Aragon region, and are known as the Monegros portfolio.
The start of commercial operations
Progress continues on the construction of Monegros and there have been no delays or changes in spite of the situation caused by the COVID-19 pandemic. Commercial operations have already begun on the first wind farms, and the others will reach this phase gradually over the coming months.
Connection to the network is guaranteed for the projects included in this new portfolio, and the partners involved are progressing toward the financial closure of the operation that is expected in about 24 months. According to the terms of the agreement, Forestalia will provide development services for the portfolio of projects until financial closure is established and construction begins.
Job creation
With this operation, the Copenhagen Infrastructure IV energy infrastructure fund, administered by CIP, exceeds 4 billion euros in investment, and is approaching its target of 5.5 billion euros.
Christian Skakkebæk, a senior partner of CIP, states: "It is really exciting to continue and build on our successful association with Forestalia for this new portfolio involving over a gigawatt of high quality, land-based wind farm projects in Spain. It has been clearly demonstrated that Forestalia and CIP jointly possess all the suitable skills to bring these projects to fruition and we are absolutely convinced that, together with our local, industrial partners, we will be delivering wind farms of the highest quality".
Fernando Samper, the Chairman and founder of Forestalia, explained: "This new agreement with CIP will guarantee very significant investment for the province of Teruel, because these plants will create jobs in a territory that is in need of new opportunities for the future. Renewable energy is so important for rural areas. Forestalia is undertaking its complete portfolio, for over six gigawatts, together with international partners of the highest level. It is really exciting to strengthen our association with CIP".