Steag Solar and KGAL develop two solar projects in Granada and Almeria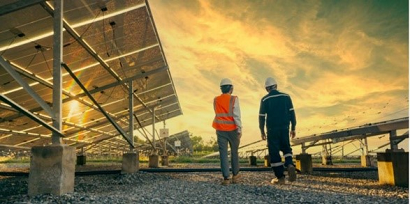 22 February 2021
The alliance between the two German groups could represent up to two gigawatts installed in Spain by 2023
The Spanish sun continues to act as a magnet for German capital, and not only in the form of tourist remittances but also as a source of sustainable energy. The alliance between two powerful companies from the German region of Bavaria, Steag Solar Energy Solutions (SENS) and the investor KGAL, now has a base in eastern Andalusia, where it will launch two new projects.
Steag Solar, specialised in the development, construction, maintenance and operational management of solar farms and other associated solutions, already has two solar plants in the development, planning and construction phase near the cities of Granada and Almería. The two new facilities will add a total capacity of 40 megawatts.

Turnkey delivery
Steag Solar Energy Solutions Iberica, a Spanish subsidiary of the German company with offices in Madrid and Seville, has been at the forefront of the development and implementation of these two projects. André Kremer, CEO of SENS, explains: "As with earlier comparable projects, SENS again put together an all-round carefree package covering all stages from concept development to turnkey handover for our partner KGAL". After delivery, SENS will be responsible for operating and maintaining the plants. The projection is that the two combined will produce up to 84 gigawatt hours of green electricity per year.

These new projects help SENS advance towards its goal of achieving 500 megawatts of installed capacity in the Spanish PV solar energy market. Moreover, according to Kremer: "Based on the excellent progress of recent months, we will reach this figure earlier than expected and be in the happy position of setting another, much higher goal", which he ventures to quantify: "We will probably exceed the 2 gigawatt mark by 2023".

Track record of successes
The alliance of SENS and KGAL was created to develop solar projects in Sicily (Italy), and arrives to Spain endorsed by a long list of successes. According to Steag Solar, as a result of this agreement, if they were laid end-to-end, the solar modules installed so far and the modules under construction in Italy and Spain would stretch from Sicily to Andalusia, a distance of no less than 3,520 kilometres.

Matej Lednicky, head of transaction management at KGAL, assesses the partnership with SENS that has led to this new project: "We are thrilled with the commitment and directness of our working relationship. Through its highly solutions-orientated approach, especially in these difficult times brought about by the coronavirus, we see SENS as an ideal partner for future projects".